New Ammonia Infrared Gas Detector Designed for Hockey, Recreational Rinks
October 11, 2019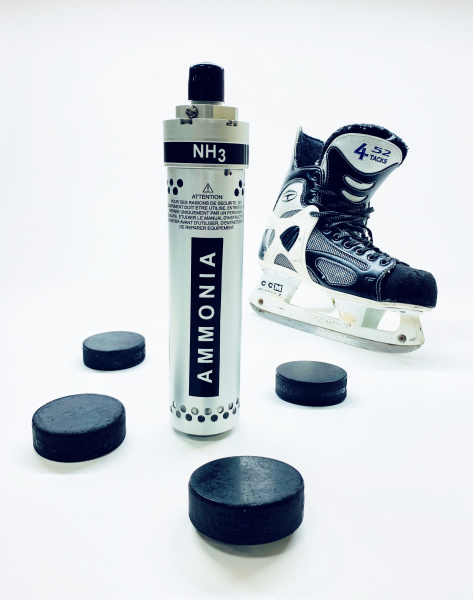 NEW AMMONIA DETECTOR DESIGNED
FOR HOCKEY, RECREATIONAL RINKS
An usual ammonia detector that monitors mechanical equipment in professional, college, school and community skating rinks has been introduced by Sensor Electronics of Minneapolis.
Because of ammonia's dangerous toxic and explosive characteristics, this new detector couples extreme sensitivity – it can "see" ammonia leaks small as 25 ppm – with an extended operating life.
"Tunnel vision" means the detector reacts only to ammonia, ignoring hydrocarbons, halogens aerosols, zambonis. It also shrugs off sudden shock, continuous vibration, temperature extremes, automatically compensates for sensor drift, component aging.
Since this new detector has no moving parts, no mirrors, no beam splitters or other sensitive components it works for decades, even under tough profession league conditions.
Clever design eliminates need for periodic testing, recalibration, replacement. Self-checking circuitry spots problems immediately, spelling out what's wrong where.
The detector meets OSHA, EPA, LDAR requirements, carries CSA and ETL Certification.
More information about this new Ammonia gas detection system designed for hockey and recreational rink applications is available: Sensor Electronics, 12730 Creek View Avenue, Savage, Minnesota 55378, 800-285-3651,
www.sensorelectronic.com
or sales@sensorelectronic.com.