New Sensor Protects Workers Changing Sunbeams into Electricity
June 19, 2009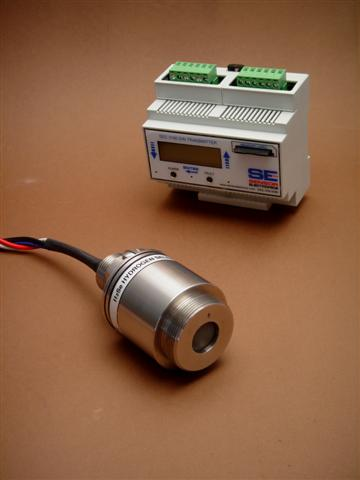 A compact gas sensor that detects even minute quantities of hydrogen selenide – H2Se – has been developed by Sensor Electronics of Minneapolis.
The highly toxic gas is used in etching silicon wafers that capture sunbeams, changing sunshine into electricity.
The dangerous gas is used in other semiconductor manufacturing applications, as well as in research and design laboratories.
The new sensor is designed to work in harsh atmospheres: Its stainless – steel construction shrugs off corrosive atmospheres, ignores temperature/humidity extremes.
Small size – 2-inch diameter, 3.5-inch length – means it can be mounted virtually anywhere.
The sensor can work by itself, tie into an existing protection system, or work in tandem with its own dedicated transmitter.
The transmitter reports real-time H2Se levels on a digital readout panel; in addition, color-coded LEDs go green/yellow/red as toxic levels increase.  At a preset red danger level integral transmitter relays can turn on fans to flood the area with outside air, flash remote alarms, and bring help on the run.
The transmitter also keeps a watchful eye on itself and the sensor, spelling out what's wrong where in case of troubles anywhere in the system.
Additional information about this new H2Se sensor that stands guard over workers changing sunbeams into electricity is available from Sensor Electronics, 5500 Lincoln Drive, Minneapolis, MN 55436