SEC Signature DIR Dual Gas Analyzer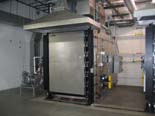 The SEC Signature DIR Dual Infrared Gas Analyzer is a self contained dual chamber optical gas analyzer designed for a non-intrusive continuous monitoring of process gases. This infrared optical gas detector is self-compensating for most aging environmental and contamination effects in which results in excellent measurement integrity. The SEC Signature DIR measures infrared light absorption due to molecular resonances. These dual gas analyzers are tuned to the infrared signature of the target gas or vapor, measuring light at wavelengths absorbed by the target gas and at wavelengths not absorbed by the target gas. The gas concentration is determined by calculating the ratios of the analytical and reference levels. These dual gas analyzers are unaffected by humidity and pressure. Embedded linearization algorithms keep the output accurate regardless of the ever changing environmental conditions. This optical gas detector monitors H2O, Hydrocarbons and Carbon Dioxide gas vapors. Patented self-compensating optical bench. Fast response time. This infrared gas analyzer can be used in the medical device industry monitoring their sterilization chambers.
Features
Capable of non-intrusive continuous monitoring for 2 different vapors
Infrared Sensing Technology
Designed for non-extractive sampling installation
Explosion Proof, compact and lightweight - virtually maintenance free!
Self-Compensation optical system (patented)
Dedicated 4 to 20 mA output for each channel
*Please select the quantity for each item you wish to order and click the 'Add To Cart' button below.
Medical
Pharmaceutical
Petrochemical
Models:
EtO/H2O
Hydrocarbon/H2O
CO2/Hydrocarbon
Range (Adjustable):
EtO: 0-2000 mg/liter
Hydrocarbon: 0-100% VOL
CO2: 0-100% VOL
H20: 0-100 mg/liter
H2O: 0-300 mg/liter
Construction:
Anodized aluminum and sapphire
Mechanical Connection:
Weight:
Accuracy:
± 5% of reading or ± 3% full scare
(Whichever is greater)
Repeatability:
Operating Voltage:
Max. Power Consumption:
Current Draw (@24VDC):
Analog Outputs:
Ch0: 0-20mA (sourced)
Ch1: 0-20mA (sourced)
Digital Output:
Interactive P.C. link (White Wire)
Input Compensation Channel:
Wire Connections:
Red wire (+24 VDC)
Black wire (D.C. common)
Blue wire (4-20mA output signal Ch 0)
Yellow wire (4-20mA output signal Ch 1)
White wire (digital interface)
Brown wire (Compensation input)
Rating:
Class 1, Div 1, Groups B,C,D
(-40° to + 75° C)
Humidity:
Operating Temperature:
Operating Pressure:
Installation Category:
Cat. 1, Pollution Degree 2
Dimensions:
5.5" (H) x 4.25" (W) (inches)